OUR MISSION
To provide high quality care "close to home."


OUR VISION
Leading sustainable health care delivery in rural communities.


OUR VALUES
Every effort is made to ensure the values and principles of the organization are realized on a day-to-day basis.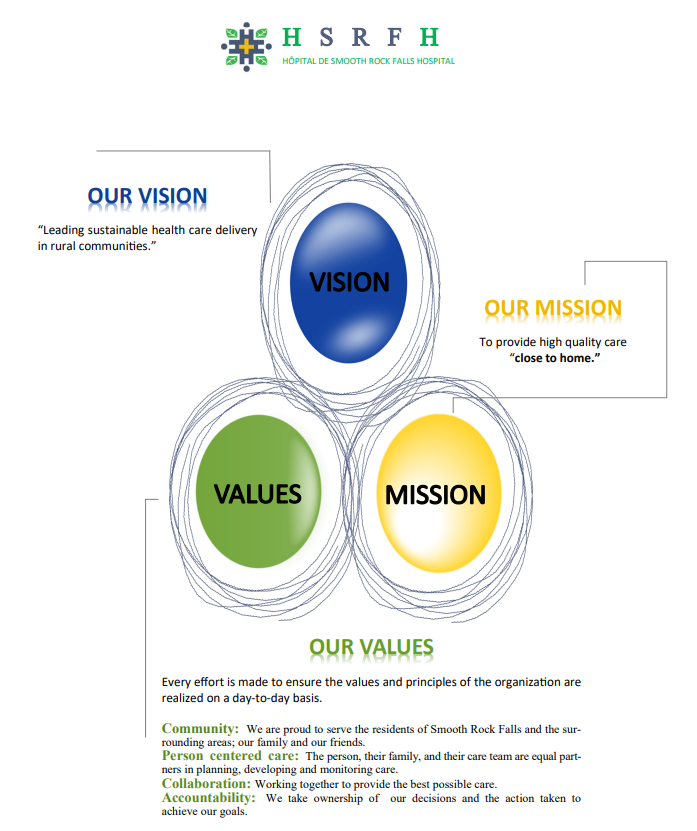 Community: We are proud to serve the residents of Smooth Rock Falls and the surrounding areas; our family and our friends.

Person centered care: The person, their family, and their care team are equal partners in planning, developing and monitoring care.

Collaboration: Working together to provide the best possible care.

Accountability: We take ownership of our decisions and the action taken to achieve our goals.


ACCREDITATION
---
The Smooth Rock Falls Hospital is committed to providing safe and high-quality services; therefore, through Accreditation Canada's Qmentum program, we assess our services against standards of excellence to identify what is being done well and what needs improvement.
By receiving the Accreditation Canada seal, it is assured that our organization is working hard to meet the standards of safe and high-quality care for you and your family.